HULA PRIVATE CLASSES (RESERVATION REQUIRED)
Profile
1995 Miss Aloha Hula. Her Hālau is known for it's firm foundation in footwork and adherence to those hula traditions given to her by the masters under which she has been fortunate to study.
Halau Hula Ka Lehua Tuahine and Kumu Hula Hiwa Vaughan, whose love for the hula began at age 3. This love has led her to study under the traditions of na Kumu Hula Kimo Alama Keaulana, Kealoha Kalama, Leimomi Ho, Chinky Mahoe and Aunty Mae Loebenstein, culminating in the formal rite of 'Uniki (graduation) under the auspices of Master Kumu Hula Mae Kamamalu Klein who hails from the Ma`iki Aiu lineage. While studying under Kumu Hula Chinky Mahoe at age 10, Hiwa won the title of Miss Keiki Hula (1985) and under the tutelage of Master Kumu Hula Mae Ulalia Loebenstein, she won the Merrie Monarch title of Miss Aloha Hula 1995. Hiwa hails from a musical family and has traveled throughout Europe, China and Japan with her parents, Ipolani and Palani Vaughan, sharing Hawaii's rich cultural traditions through song and dance. Her Hālau is known for it's firm foundation in footwork and adherence to those hula traditions given to her by the masters under which she has been fortunate to study.
Hiwa educates her haumāna in all aspescts of the hula: Oli, `Olapa, `Auana, `Olelo and hula implement making. Each student is required to make their own hula implements so that this art, which is such an integral part of the hula, may continue to be practiced.
Fees
Private(Group of 3 or less): $350 /2 hours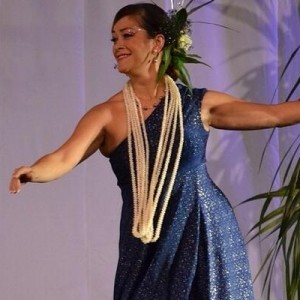 Profile
Malia Haumschild is considered one of Hawaii's best professional hula dancers, teachers, choreographers, and businesswomen. She has performed and collaborated with Hawaii's elite entertainers in all of the top venues in the islands. Through her passion for performing, teaching, and sharing her culture, she has brought the beautiful songs and dances of Polynesia to a world-class level with professional performances and hula workshops in over 15 countries.
Born and raised on the island of Maui with a strong foundation in traditional Hawaiian music, hula and culture, Malia trained under na kumu hula (hula teachers) Keali'i Reichel and Uluwehi Guerrero for 10 years and has competed with the halau (hula academy), earning 1st place in both 'auana (modern) and kahiko (traditional) styles of hula.
Malia has an Executive M.B.A. from the University of Hawaii at Manoa and a B.A. in Political Science from Pepperdine University. She has an extensive background in both business and government. In addition to her Hula Hula performances around the world, you may remember her from her previous work as Chief of Staff to Representative Mele Carroll, and as senior political aide at the Office of Hawaiian Affairs for Haunani Apoliona.
Fees
Regular Lessons: $100/90 mins Wednesdays 6pm-, Fridays 1:30pm- (90 mins each)
Private(Group of 2 or less): $300 /2 hours
Profile
Kawena Mechler brings years of experience as a professional hula dancer and production coordinator to Kahiapo Talent. Tony C. (Conjugacion), Weldon Kekauoha, Sean Na'auao,The Ka'ala Boys, The Kaimana Band, The Brown Boys and Sam Kapu III, and has danced for many of the top Hawaiian artists including Robert Cazimero, Keale, Brother Noland, Ledward Ka'apana, 3 Scoops of Aloha, Ocean Kaowili, and many more. She has served as the Production Coordinator for Nalani Productions, and manages the choreography, costuming and scheduling for concerts and performances all over the world. She frequently performs and conducts workshops on major cruise ship lines, and was part of the performance troupe that accompanied the Governor during a visit to China to promote Hawai'i as a visitor destination. She is a co-composer of mele, contributing her lyrics in the Hawaiian language on songs.
Fees
Private(Group of 3 or less): $300 /2 hours
Profile
Shiori Abe presents the past, the present, and the future of her journey through life in her graduate thesis exhibition entitled "Owarinaki Michi Ka Huakaʻi Palena ʻOle" ("The Never-ending Journey" in both Japanese and Hawaiian). Follow the carefully aligned path through time as she learns and practices hula while rediscovering her own Japanese ancestry. See the connection between the two cultures that both revere and respect the bond between nature and humanity: one through the spirit of Shintoism and the other through the spirit of mana.
Fees
Private: $100 /1 hour
Reserve Your Lessons
Tel: 808-312-4381
Office Hours: 11:00am ~ 6:00pm/Monday – Saturday 
Sunday, as well as early morning and evening classes, also available by appointment!
Reserve Your Lessons
Tel: 808-312-4381
Business Hours: 10:00am-7:00pm (Sat/Sun by Appointments Only)