HULA STUDY ABROAD (We have private lesson only now)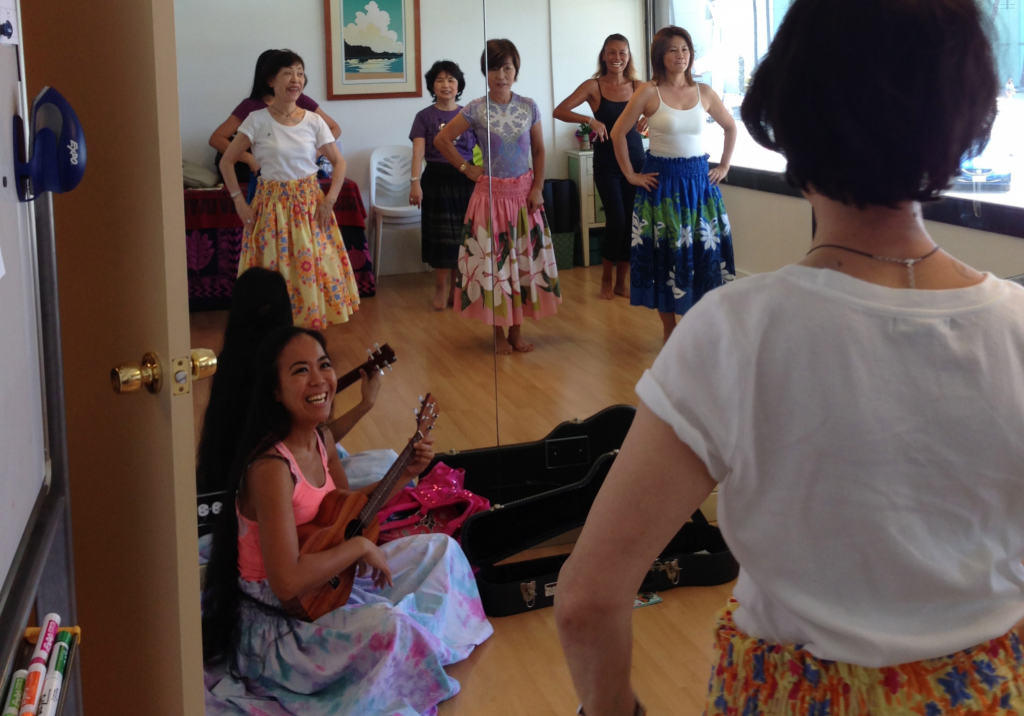 Program summary / We have online lesson only now.
Term: 1week -3 months
Level: Beginner to advanced
Content: Learn basic hula steps, improve your hula skills, and learn the meaning and history of hula songs and learn Hawaiian language!
When you complete the course you will get a certification from PoePoe and get a chance to perform in public at one of PoePoe's various events!
Fees include PoePoe original pa'u skirts.
Five lessons a week.
Plumeria 3 month course
Start at $4,500 (Lesson price)
One time $100 registration fee
Fees include PoePoe original pa'u skirts
Learn the basic steps as well as learn the history and meaning of the songs!
3 month course: learn 10-12 songs or complete 4-5 songs
Instructors (Shiori Kaʻimilani, Germaine Kalelani Haili)
ASK US
Plumeria 1 month course
Start at $1,600 (Lesson price)
One time $100 registration fee
Fees include PoePoe original pa'u skirts
Learn the basic steps as well as learn the history and meaning of the songs!
1 month course: learn 4-6 songs or complete 1-2 songs
Instructors (Shiori Kaʻimilani, Germaine Kalelani Haili)
ASK US
Plumeria 1 week course
Start at $450 (Lesson price)
One time $100 registration fee
Fees include PoePoe original pa'u skirts
Learn the basic steps as well as learn the history and meaning of the songs!
1 week course: learn 2-3 songs
Instructors (Shiori Kaʻimilani, Germaine Kalelani Haili)
ASK US
Hibiscus 3 month course
$4,500 (Lesson price)
One time $100 registration fee
Fees include PoePoe original pa'u skirts
Learn the basic steps as well as learn the history and meaning of the songs!
3 month course: learn 10 - 12 songs or complete 4 - 5 songs
Instructors ( Shiori Kaʻimilani, Germaine Kalelani Haili )
ASK US
Hibiscus 1 month course
$1,600 (Lesson price)
One time $100 registration fee
Fees include PoePoe original pa'u skirts
Learn the basic steps as well as learn the history and meaning of the songs!
learn 4-6 songs or complete 1-2 songs
Instructors (Shiori Kaʻimilani, Malia Haumschild, Germaine Kalelani Haili)
ASK US
Hibiscus 1 week course
$450 (Lesson price)
One time $100 registration fee
Fees include PoePoe original pa'u skirts
Learn the basic steps as well as learn the history and meaning of the songs!
learn 2-3 songs
Instructors (Shiori Kaʻimilani, Malia Haumschild, Germaine Kalelani Haili)
ASK US
Pikake 3 month course
$8,700 (Lesson price)
One time $100 registration fee
Fees include PoePoe original pa'u skirts
Learn the basic steps as well as learn the history and meaning of the songs. Also learn how to instruct hula!
3 month course: learn 10 - 12 songs or complete 4 - 5 songs
Instructors (Malia Haumschild, Kumu level dancers)
ASK US
Pikake 1 month course
$3,000 ( Lesson pricie)
1 week course: learn 2-3 songs
Learn the basic steps as well as learn the history and meaning of the songs. Also learn how to instruct hula!
learn 4-6 songs or complete 1-2 songs
Instructors (Malia Haumschild, Kumu level dancers)
ASK US
Pikake 1 week course
$800 (Lesson price)
One time $100 registration fee
Fees include PoePoe original pa'u skirts
Learn the basic steps as well as learn the history and meaning of the songs. Also learn how to instruct hula!
1 week course: learn 2-3 songs
Instructors (Malia Haumschild, Kumu level dancers)
ASK US